Keeping it fresh
Revamping the Day One brand for today, and tomorrow
Fresh Thinking, New Energy, Every day.
Fresh Thinking, New Energy, Every Day. Since the beginning, these words have been at the core of the Day One brand, and while we've changed a lot over the last 6+ years, the ethos of what has made every day Day One for us has remained. We're always looking to treat each morning like a new one, and to keep the spark of creativity you feel at the start of something new throughout each and every relationship.
Those ideals, paired with the idea of building something that will both last and have impact today, has allowed us to do some great work over the years, and in the end of 2019, we wanted to find some new ways to show off that work.

As an agency, we've been very lucky to have worked with some amazing partners and to have earned recognition for our hard work along the way—Small Agency of the Year in 2018 from PRovoke Media, 2019 PR Agency of the Year from Campaign Magazine, and most recently 2020 Creative Agency of the Year from PRovoke Media.
Still, outside of these award shows and submissions, we haven't been able to showcase our work with ease. With that in mind, we began the process of reimaging what a new d1a.com could feel like, but step 1 was revisiting the branding.
All of the feels
Partnering with long-time agency friend Korey Vincent (he helped us redesign our last site in 2015) and collaborating closely with our in-house studio, we began a process to think through not just the new site, but a new identity for the agency as a whole.
We took the assignment down two simultaneous paths, having a mix of our in-house designers begin to experiment with typefaces, marks, and colors while Korey led a discovery phase with our senior leadership team to hear from them what Day One stands for and what inspires us to make sure our visual tone matched our philosophical one.

At the end of the first sprint, we found ourselves with some great new ideas around color and expression that matches our team's energy, and some great references for what we wanted the new brand to do. From here we set some rules for the new branding:
Reflect on who we are

Make sure the new brand marries our beliefs and our spirit

Create tight guard rails

It's ok to flex, but it should all feel like one brand

Bold, but flexible

The brand should work solo, and let our partners shine through as well.

Reimagine the mark

The old "D1" symbol was extremely literal, how could a new icon say more.
The New Identity
As the brand was refined through workshops, multiple rounds of review and testing of application, we came to a consensus on the look & feel. We updated our typeface from Brandon to something a bit more playful in Founders Grotesk and also streamlined to utilizing just the one font.
We also created three new marks, that together showcase the strengths of our team:
Trapezoid

Forward Thinking. Dimensional. Open-Minded.

Circle

Community. Cohesive. Connection.

Burst

Innovative. Exciting. Fresh.
For color it was important for us to keep the orange—it has been part of Day One since the beginning, but we added a few new colors to give our team some additional tools to play with and to express our vibrant energy.
And for our logo itself, we redrew Founders Grotesk into a new Day One Agency Lock Up with two iterations, a clean stack for all external communications, and an alternative 'flip' logo for internal. We love the way the capital G in agency creates almost a "refresh" mark right in the name. There is also a bonus, established in 2014 lockup, for the swag, flyers, and signage within the office space.
All of these pieces are now spelled out in our complete Day One brand book, and while we've made a lot of these for clients, it was truly the first time we put so much of our style on paper for the agency itself.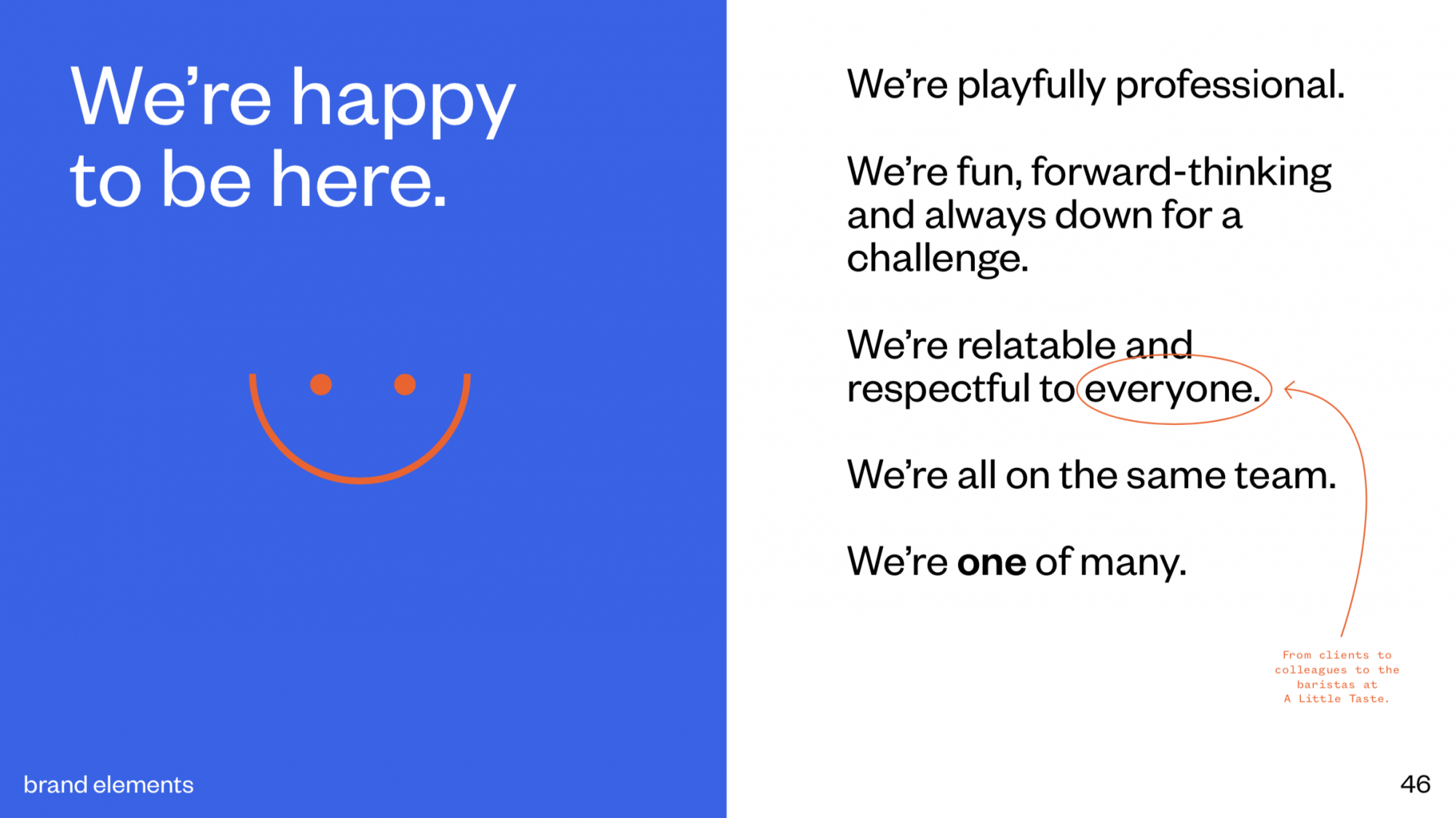 Translating to d1a.com
With the brand in place, we began the process of utilizing the new marks, type, colors, and expressions into an all new home for the agency. Back in 2016 I wrote a piece about agency sites and called it the "first point of contact, but the last consideration." A lot of that holds true, and there is no greater sign than the fact that it took 3+ years for us to update once again.
This time around we had a lot of new ideas, and again some key rules:
Show the work

Editorial-like case studies with an emphasis on modular functionality

Highlight the team

It was important for us to make sure every single employee at Day One was on the site, not just the founders or senior leadership. We think we found a fun way to do that, and show off some of our personality.

Re-platform Perspective

Our editorial home, which has lived on Medium since 2015. We're slowing bringing over our best work to d1a.com, which will also host our Quarterly print publications in digital form.

Be mobile friendly

If we're pushing to stories via social, odds are many are reading on their phones. The work should look just as good (if not better) on a non-laptop device.
We were extremely fortunate to partner with Richard Callahan of Holiday to lead the development. I've known Richard for years, and he was beyond helpful in seeing through the vision we presented in early designs. The new site is built on a more flexible CMS, and gives us an opportunity to not have to start from scratch the next time we need a small change or update.
So here we are. If you made it this far, you're reading this on the all new d1a.com. We're excited to have the ability to share some work and our thoughts, our team and culture, but we're most excited for what is to come. With a new home and an all new look, the creative teams have already begun thinking through a new a digital-first quarterly, all new agency swag, updated office aesthetics, and revamped social look and feel. We know the brand and the site won't last forever in its current iteration, but we hope these recent refreshes will help to share just a bit more of who we are, how we think, and the spirit of the agency.
We would love your comments and feedback and hope you all have a great new day.
-Jamie
Jamie Falkowski
Managing Director